Motor vehicle theft has gone a notch higher in Kenya, with a sophisticated crop of thugs engineering new tactics regularly.
On Sunday, September 20, the DCI announced the arrest of 3 individuals believed to be part of a car theft syndicate that has been terrorising motorists in Nairobi as well as Mombasa County.
"Pursuing a case where the victim hired his KCT 250T Toyota Axio on 26th July, 2020 to one of the suspects; George Morara Aboki for three days, but who disappeared since, detectives established that the syndicate was tampering with the car tracking gadgets before disposing them in Tanzania via the Namanga border," reads an excerpt from the statement issued by the DCI.
These new breed of thugs rarely use guns to obtain vehicles from motorists.
The thieves caught on camera breaking into a vehicle on September 17, 2020.
YOUTUBE
Posing as customers, they present fraudulent identification, driving licenses and non-existent telephone numbers.
With the fake documentation, and having made the necessary payment as required, the "clients" simply drive off with a vehicle of their choice. They leave no traceable trail at the hire firm.
Police say the robbers seem to prefer the hired vehicles because documents obtained from car hire firms enable them to cross borders with ease.
According to the latest report (2018) published by the Association of Kenya Insurers (AKI), at least 100 cars are reported as stolen to insurance companies each month.
"71% of vehicles reported stolen in the country are Toyotas followed by Isuzu (7%) and Nissan (5%). The rest constitute 17% cumulatively," the report reads in part
White remains the favourite colour for thieves (50%), followed by silver (21%).  66% of cars are stolen while parked, especially in public places like entertainment joints and churches, while 13% are hijacked.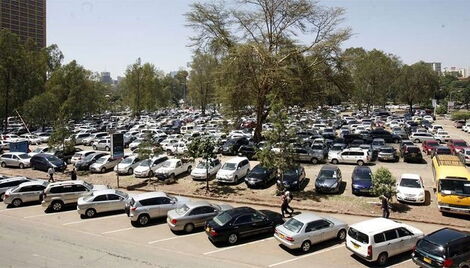 A parking lot in Nairobi.
FILE
Use of Jammers
Car thieves have kept up with the changing technology in the motor industry. Following the introduction of keyless cars, they now have jammers that make stealing such cars as easy as taking candy from a baby.
Typically, the thief will be loitering around a parking lot waiting for cars to pull in.
As the driver walks away the thief presses the jammer just before the driver presses his fob to lock the car.
The car's alarm will make its usual sound but the car will not lock. To be safe, always ensure all your doors are locked before leaving your car.
Notably, having a GPS tracker on your car will not help in this instance as these tech-savvy thieves more often than not bring along a GPS jammer as well, which costs as low as Ksh2,000 online.
Fake plates Syndicate
The horrific dusitD2 terrorist attack in January 2019, exposed a racket involving NTSA officials and car thieves.
Collusion between State officials motivated by greed and the criminal underworld has increasingly fuelled theft of motor vehicles in the country.
Investigations revealed that that for as little as Ksh2,000, and a 30-minute wait, one can get a duplicate number plate for a vehicle that normally operates in another town.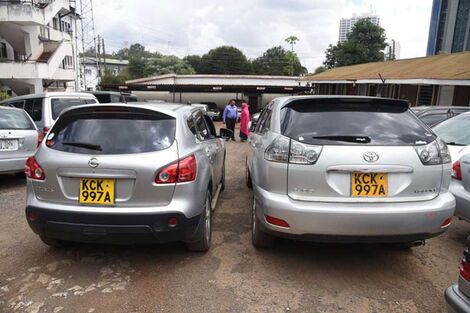 Two vehicles with similar number plates at Nairobi County Police headquarters on November 19, 2018.
FILE
The trick is to prevent car owners with similar number plates from ever encountering each other.
When the ingenious tricks run out, the thugs revert to their default setting of hijacks masked in tricks.
Disguised Car Break Down
These robbers usually park a car beside the road and one of them stands conspicuously next to it with a small Jerry-can indicating their  car has run out of fuel and they need a lift to the next petrol station.
The Good Samaritan will stop and offer a ride. Once the perpetrator is in the car, he points a gun at the victim and orders him/her to drive to a certain direction where they are joined by other robbers.
They will then drive the victim to his/her house, rob them of valuables and take them to their ATM branch to withdraw money.
In some cases the victims are tranquilized and rendered unconscious.
Ladies asking for Lifts 
This has been a big trap for male drivers for many years.
Several male victims have fallen prey to female robbers who ask for rides and end up robbing them at gun point after being joined by awaiting male counterparts.
After falling prey, they execute their plan, usually similar to the disguised break down, in that they often max out their victim's bank account as well.
Car Owner Identification 
This was a very common tactic back when nightclubs used to operate around the clock.
It's mainly adopted in crowded areas that have limited parking spaces by the very same watchmen or guards that are responsible for the safety of your vehicle.
The watchmen move around, waving a placard to identify the owner of a targeted vehicle, they could feign the need to adjust the way the car is parked.
Once identified, the guard will either identify the car owner to the thieves or leads him to an otherwise 'poorly' parked car where the robbers lay in wait.
Magnets on Break Discs
This is a relatively new tactic which involves the placing of a magnet on the cars brake disk.
Once you get behind the wheel, the car immediately starts making noises that will force you to stop, thinking the car has some serious mechanical issues.
Once you stop to check the source of the disturbing noise, the thieves, who were trailing you, pounce.
It is important to remain vigilant of your surroundings as a motorist, the police advised.
In January 2020, a gang of car thieves gained notoriety for using throwing tiny pebbles on the roof or windscreens of oncoming vehicles.
They positioned themselves at the intersection of Wangari Mathai Road (formerly known as Forest road) and Limuru Road.
The shock factor from the thud of the pebble hitting the car forced most drivers to veer off the road and make sudden stop. This was when the thugs pounced from the dark shadows under the bridge.
False Mechanical Problems
This tactic has been known to be commonplace in Nakuru and Nairobi particularly. Whilst your vehicle is parked, criminals will splash motor oil on a wheel of your car or under the engine on the ground.
When you return to your vehicle, a 'Good Samaritan' will draw your attention to this, tell you that the vehicle needs urgent Maintenance and indicate they know a mechanic just 'nearby' who can assist.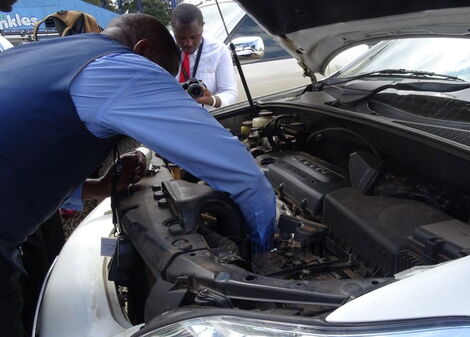 A technician working on a car.
FILE
Another version is as you're driving along, a car will pull alongside and indicate to you there is a problem with your car, e.g. a puncture or some urgent matter to the rear of your car.
On occasion, its been reported that a car will literally bump your car in a staged accident to make you pull over.
In these circumstances, it is best to continue driving to a police station or well lit crowded place before pulling over and engaging with the other car's occupants.
Other simple preventative measures include:
Never leave your car running unattended, even to dash into a business, or convenience store.
Always roll up your windows and lock the car, even if it is parked in front of your home.
Never leave valuables in plain view, even if your car is locked. Put them in the trunk out of sight
Always park in high-traffic, well-lit areas, when possible.
Install a mechanical device that locks the steering wheel, column, or brakes. These devices will deter some criminals.
Invest in a vehicle theft tracking/security system, especially if you own one of the frequently stolen model vehicles.
If your vehicle is stolen, report it to the police immediately.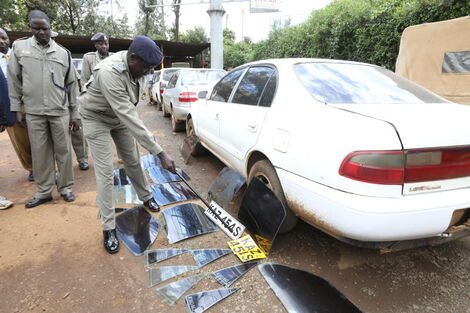 Vehicle parts that were recovered by police in Litein, Kericho County. October 2019.
FILE